Did you know that you can BUILD your OWN container home?  It's easier than you think!
This is by far the most ambitious offer we've found to date, so it's definitely not for the faint of heart 🙂   However, if you are in the market for a new home, looking for an affordable alternative to a vacation property, or just looking for an interesting alternative to living in the typical cookie-cutter house, this program is well worth the look.
A new home in today's market can literally cost you hundreds of thousands of dollars.  And if you want a custom home, the costs are even higher.  A "container home" is the ultimate way to beat the high cost of new home construction, and with some imagination, can offer you the opportunity to "customize" your build with many aesthetically pleasing, "modern architectural" designs.  You can literally modularize your construction, and expand as big as your budget allows…but let's stay focused on the cost savings for now…
Did you know that you can buy commercial shipping containers for just a few thousand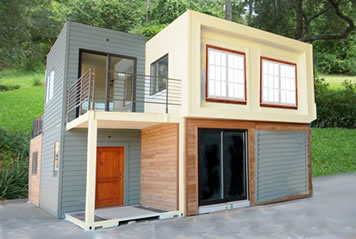 dollars?  Let's put that into perspective.  For less that a single year's worth of car payments, you can get started on a new home. But like with anything else, you need to weigh the pluses and minuses and get the right information to make informed decisions before going forward.  One of the most important of these is SAFETY.  You should never just rush in and buy any new home, and therefore, you should never just rush in and buy any available shipping container.  There are risks involved, and you need to be aware of them.
This guide highlights those risks, and details the most important pre-purchase part of the process – the container INSPECTION.  The guide also shows you where to buy to get the best possible price, and details the design plans, site layout, preparation, and permits you will need to build the (inexpensive) home of your dreams.
But it doesn't stop there…this guide leaves virtually no stone un-turned.  This isn't some bits-and-pieces online video or virtual pamphlet.  From start-to-finish, and bottom-to-top, this guide (and its author) will give you all of the knowledge you would ever need to make this project a success.
So if you've ever dreamt of owning your own home, but couldn't afford it – or if you've ever wanted to simplify your life, and considered a "tiny home" as an option, this guide is an amazing resource!
Insiders Tip:  Even if you're not currently in the market for a new home, you must have been curious about "container home" living, or you wouldn't have clicked the link to this page 🙂  So regardless if you're ready to build, or just thinking about it, I encourage you to grab a copy of this guide.  It's an amazing read for anyone interested in the subject.